All jewellery, no bullshit
Rose & Crown is your personal jewellery concierge.
We are here to help find and create the jewellery you want. No project is to big or small — we have helped couples design the engagement rings of their dreams, found or designed perfectly suited birthday and anniversary presents, turned client's old family jewellery into pieces they wear everyday — you get the idea.
You should wear what you love, or give what you want, without the crazy markups or hidden fees. We are honest and transparent with our clients about our prices and process. Reach out to find out more!
JEWELLERY CONCIERGE
Need a gift? Tell us your budget, date, and intended recipient, and we will come back to you with ideas we can make a reality.
CUSTOM JEWELLERY
We work with you to design and deliver beautiful pieces from scratch made from solid gold with certified diamonds and precious & semi-precious gemstones.
SOURCING JEWELLERY
Know what you want? Tell us and we will work with our vendors to get it for you.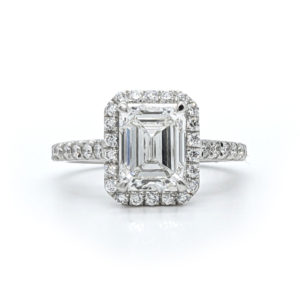 2cts emerald cut Canadian diamond set with a diamond halo and pave band in 18k white gold. (Left)
Vintage inspired, alternative engagement ring featuring an oval blue Spinel and diamond halo set in 14k rose gold. (Left)
Family member necklace: bezel set precious & semi-precious stones that slide along a white gold chain. (Right)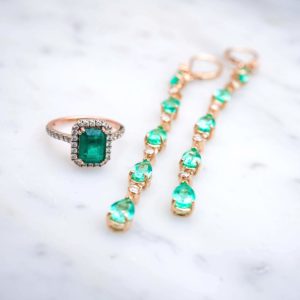 Emerald engagement ring set in white and rose gold beside a pair of 6 pear shaped emerald & diamond drop earrings also set in rose gold. (Left)
2.5cts diamond engagement & diamond wedding band set, and men's tungsten band. (Right)
14k rose gold matching star necklace, bracelet, and climber earring set for a 12 year old girl's birthday present. (Right)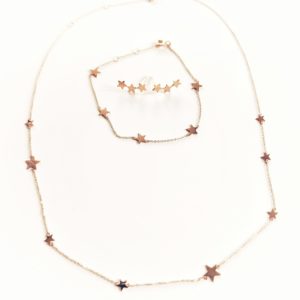 CUSTOM JEWELLERY PROCESS
We work with you to make something beautiful that you, or the person you will be giving it to, will want to wear. Whether you have an idea of what you are looking for, or none at all, we will guide you every step of the way. You will get photos at every stage, you are really a part of the process!
IDEATION
We come together to sort out the design and materials, working with a specific idea or a wide range of inspirations that we combine to make something unique. This stage can be quick or take some time, it all depends on the client and the design they are looking for.
SOURCING & SELECTION
While the designing is underway, we source the diamonds and/or precious/semi-precious stones required, as the size of the stones will affect the design of the piece(s). We work with our vendors to get the best quality stones and meet with our clients so they can see their options in person to make an informed decision (this can also be done virtually). Depending on the design, we can also source pre-existing settings or elements to assemble the piece without having to go through the CAD & 3D printing phase.
CAD MODEL & 3D PRINTING
Once the primary stone(s) are purchased, we use the dimensions to finalize the design, allowing for the proportions to be optimized and inform any changes required. This is done through a computer model that is approved by the client before moving forward. The CAD model is utilized to 3D print a custom wax mould to cast the chosen precious metal(s).
FINISHING
All the parts, whether they were pre-existing or custom cast, are hand set and finished. Upon completion, depending on the size, custom laser engraving is available. We then get the finished piece(s) appraised, if appropriate, and source the appropriate box prior to delivery. Our favourite part is the expression on our client's faces when they open the box and see the final product!